Unable to view the images? Please click here.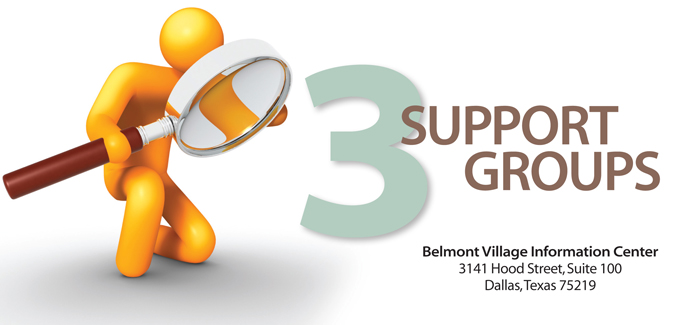 Low Vision Support Group
Meets 3rd Wednesday of each month
2:00 p.m. - 3:00 p.m.
Facilitator, Roberta Barrow
Next Meeting, March 20, 2013
Designed to provide emotional, educational and social support for seniors challenged with visual limitations related to macular degeneration, glaucoma, cataracts, and other eye conditions.

Caregiver Support Group
Meets 1st Thursday of each month
1:00 p.m. - 2:30 p.m.
Facilitator, Lisa Shardon
First Meeting, April 4, 2013
Our caregiver support groups provide emotional,
educational and social support through regularly
scheduled meetings for care partners of those with Alzheimer's disease. Our goal is to help participants develop the tools and skills they need for the journey ahead.

Trailblazers Education and
Support Group
Meets 2nd Tuesday of each month
6:00 p.m. - 7:30 p.m.
Facilitator, Lisa Shardon
First Meeting, April 9, 2013
Trailblazers Education and Support Groups are designed to provide emotional, educational and social support for individuals with early-stage Alzheimer's disease and their care partners through regularly scheduled meetings. They help participants develop methods and skills to solve problems and maintain personal, physical and emotional health.

Our group facilitators are trained by the Alzheimer's Association. Trailblazers Groups provide an opportunity for those with early stage dementia and their family members to share information and experiences in a safe supportive atmosphere. These groups will begin as an educational series of weekly meetings and then transition into a support group model.

For more information or to RSVP contact
Tara Arancibia at 214-559-7015

---

Belmont Village Information Center
3141 Hood Street, Suite 100
Dallas, TX 75219
Tel: 214.559.7015
© 2013 Belmont Village, L.P.

turtlecreek.belmontvillage.com
***********************************************************************

This electronic transmission contains information from Methodist Health
System and should be considered confidential and privileged. The
information contained in the above messages is intended only for the
use of the individual(s) and entity(ies) named above. If you are not the
intended recipient, be aware that any disclosure, copying, distribution,
or use of this information is prohibited. If you receive this transmission
in error, please notify the sender immediately by return e-mail.
Methodist Health System, its subsidiaries and affiliates hereby claim all
applicable privileges related to the transmission of this communication.

Please Click Here to Unsubscribe from Belmont Village emails.